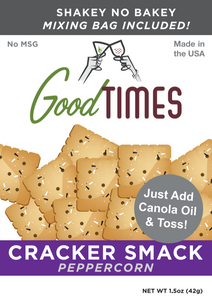 Make your snacking dreams come true with Cracker Smack - Peppercorn! Our natural ingredient cracker blends are sure to satisfy your cravings in one shakey, no bakey bag! This gifty package includes our unique spice blend and a mixing bag. You just add 1 1/2 cups of a lightly flavored oil and 2 Boxes of Nabisco® Mini Premiums. Shake, Shake, Shake and lie flat in the mixing bag on your counter for 6-8 hours. Then transfer to an airtight container. Time for an adventure in snack-tivity!
A unique blend of 5 peppercorns makes this Cracker Smack® both delicious and addictive!
Delicious when finished crackers are crunched over soups, chowders, chil! Or over a salad as a crouton! or crunched up as a panko crumb!
A great addition to any charcuterie board!